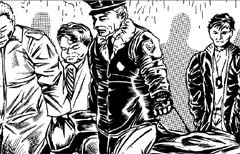 Flash Trailer — This is
where you should start if you are new to the world of Timespell.
And yes that is my voice in the movie trying to be
scary and dramatic.
~ Rich Henn
---
Cover Artwork
"Less Than Zero"

Peek through Timepell's window...
Learn how serial killer Harold "The Cradle Robber" Gillespie cut his teeth. Dine with Eddie Cipriani, the mob boss who simply demands service. And stroll the grounds with Joshua Steele, the man with a plan.
A great jumping on point for new readers.

Also featuring Indy Spotlight on Pete Sickman-Garner and Hey Mister!

Limited to 1500 copies


"Blood on the Moon"

A serial killer with a penchant for pregnant women. A homicide detective with an axe to grind. A bartender who could be mankinds final salvation.

Something that has been going on for centuries...

and is still yet to happen...
is about to come to an end.

Timespell...The time is now

"Domestic Oblivion"

The Cradle Robber has escaped from jail; all evidence points to an inside job, and a single word etched in blood. Meanwhile, McMurphy and Frankie Cipriani discuss the contents of Fat Eddie's Journal. Back at McMurphy's home, an uninvited guest awaits the detective's return.
Also featuring Indy Spotlight on Dave Roman & John Green's Quicken Forbidden.

Diamond reorder code JUL981104
"The Soul Cage"

The action in this high octane supernatural thriller heats up when McMurphy gets a dinner invitation to a benefit in his honor at Joshua Steele's. The problem is, Alex is still seeing things, and nothing is what it seems. And...is Gillespie really dead? Plus, Fat Eddie resurfaces and takes another victim.

Diamond reorder code JAN991239
"Childermas"

A message written in blood that dates back thousands of years is the only clue that links Gillespie, Fat Eddie and Steele. Can McMurphy solve the riddle, or will he die trying? Plus...the truth behind the mysterious Joshua Steele is revealed, and Harold "The Cradle Robber" Gillespie returns in "CHILDERMAS."

This issue is a great jumping on point for new readers.
Featuring the debut of new inker Mostafa Moussa (Image's IRON WINGS)
Pained cover by X-MEN UNLIMITED artist Brian Rood

Diamond reorder code JUL991328

Timespell 1
"The Director's Cut"

Representing the first issue of Timespell with eight pages of new material, including the edited first appearance of Fat Eddie.

A great jumping on point for new readers, with more character development.

A must for the hardcore Timespell fan.

Diamond reorder code SEP981146
CONVENTIONS
Meet me at next year's comiccom. I will have a table set up with plenty of free comics to give away. (by free I mean it's yours to have for a small fee of $2.95 per issue.)
Come dressed as your favorate Zoomie character and I'll autograph your comic.
July 23-27th 2014, SAN DIEGO COMICON

Rich Henn and David Lloyd display together at SDCC 2014 at booth 1907 located in the Indy Pub Pavilion (http://www.comic-con.org)
SPECIAL LINKS
---
Arrow Communications
Wed design and web management
DigitalWebbing
The latest news from the comics industry